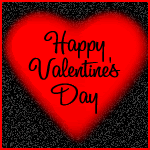 Are you looking for an inexpensive way to say I love you this Valentine's Day? The most thoughtful and inexpensive present that can be given to the one you love is a love letter. Your true feelings can be better expressed by putting them down in words.
There is only really one requirement in writing a love note, it only needs to be sincere. It doe not have to be a novel, it can be as simple as I love you.
Here are a few ideas to help you get started...
The world has been a more interesting place since I met you.
Love is not settling for someone you can live with, it is finding that someone that you can not live without. I am glad I found you.
To the world you may just be another person but to me you are the world!
I never believed in Fairytales until I met you, you are my happily ever after.
In the warmth of your smile, I feel my love. In your eyes, I can see my dreams. in you sweet embrace,I found my world. You are everything to me.
You are my first thought in the morning,the last thought before I fall asleep and I am thinking of you every moment in between.
Sh'teme, Ik Hou Van Jou, Mahal Kita, Ich Liebe Dich, I love you.... No matter how many different ways there is to say I love you, there is not enough for me to express how much I truly love you
Now that you have written your note, now it is time to have fun with the presentation.
You can leave your love notes on his or her pillow
On their windshield
Packed inside thier lunch
Place it a bottle for them to find and open
Say it on a Screensaver or create your own desktop background
Tuck your note in a balloon
By TEXT
The possibilities are endless, have fun.